There was recently a discussion in our Facebook group about the pink pussy hats popularized by the women's march in January. I've collected some thoughts and resources here in this post.
Women and trans folks need to buck the cis heteropatriarchy in solidarity with each other
Reproductive rights, trans health, women's health, immigration reform, services for survivors of domestic violence, healing from sexual violence, wealth equity.
All of these things are critical to women/trans/non-binary/queer survival. None of these things are inherently white, or require a pussy. All of us who do not have white cis male privilege need to have access, rights, and resources.
That said, I'd like to ask everyone to join me in considering what a sea of pink pussy hats says to QTPOC women and trans folks who are struggling. What does solidarity look like? What doesn't solidarity look like?
Assigned Male Comics by Sophie Labelle
Pink pussy hats are not inclusive of BIPOC and Trans women
This article verbalizes some of the reasons why pink pussy hats are unwelcoming and threatening to me, as a QTPOC.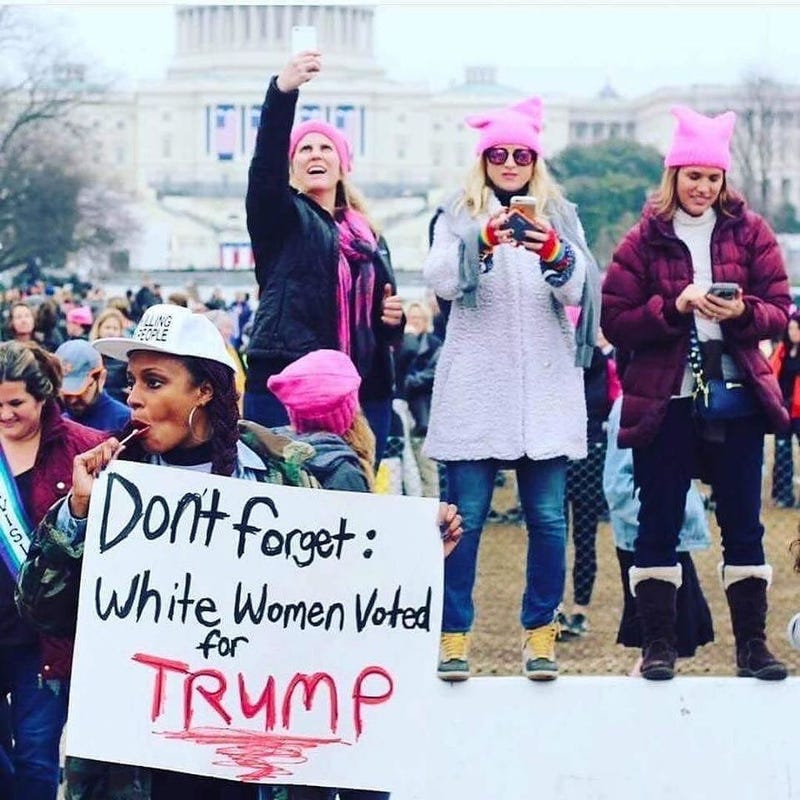 Respect to Angela Peoples in this photo taken by Kevin Banatte.
TR: How did people respond to you and your sign?

AP: Most were saying, "Not this white woman," or "No one I know!" I'd say, "[Fifty-three percent] of white women voted for Trump. That means someone you know, someone who is in close community with you, voted for Trump. You need to organize your people." And some people said, "Oh, I'm so ashamed." Don't be ashamed; organize your people.
That's why the photo was such a great moment to capture, because it tells the story of white women in this moment wanting to just show up in a very superficial way and not wanting to do the hard work of making change, of challenging their own privilege. You're here protesting, but don't forget: The folks that you live with every single day—and probably some of the women that decided to come to the march—voted for Trump, made the decision to vote against self-interests to maintain their white supremacist way of life.
I'm writing this blog post because I'm not the only one saying this about the pussy hats, about the women's march, about #whitefeminism. And it isn't even about the hat. It's about how we are not free until we are all free, so we need to create movements that don't silence and obscure QTPOC voices in favor of pink pussy symbolism, that don't prioritize the comfort and desires of cis white women over QTPOC people when they say your movement's symbolism is damaging and exclusive.
The women's march is not intentionally for problematic cis white feminists. Their mission includes a lot of intention. (Even though they did not choose the name of their event with the same intention.)
But intentions and impact are not always in line, and in this case, the impact of genitalia-based feminism was very trans exclusive. I think this Mic article sums it up nicely.
"The main reason I decided not to go was because of the pussy hats," 28-year-old Jade Lejeck said in an interview Sunday night. "I get that they're a response to the 'grab them by the pussy' thing, but I think some people fixated on it the wrong way."
Lejeck, a trans woman from Modesto, California, said the hats signaled to her that there would be other trans-exclusionary messages at the women's marches.
Feeling called out? Feel like taking some action to support trans liberation?
Center transgender people and women in your feminism. Here are some steps to take: Listen, Stay informed, Donate, and Call it out.
Locally, you can support ShotClinic Minneapolis, The Exchange Minneapolis, GLBT Host Home Program of Avenues for Homeless Youth, InquilinXs UnidXs por Justicia, 15 Now Minnesota, Family Tree Clinic, Quatrefoil Library, Bisexual Organizing Project-BOP, Little Rainbows, RECLAIM...
"My feminism will be intersectional, or it will be bullshit."
-Flavia Dzodan, Latina writer and activist