In honor of the first month of the new year, I volunteered to write about what I did this year and what I'm looking forward to over the upcoming year. As is my style, I'm a little late, but this year is still newish, right? So here it goes:
Last year was an incredible year of firsts for me. I dove in headfirst and tried pretty much every kind of riding I could get my hands on. I learned how to ride a track bike and then I raced that bike at the velodrome and sometimes I even managed to finish with the field. I bought a mountain bike and tried, with limited success, not to fall too much at Theo Wirth. I raced a criterium race and learned the true meaning of pain. I took my first solo bike camping trip, complete with insane B roads and emergency thrift store purchases, and slept on the shore of Lake Superior and in the deep woods of Wisconsin. I biked 100 miles. Then I biked more than 200 miles and stood on the podium at Riverwest24 with two other incredible women. I helped to organize and lead the best social ride of the year, The Pre-Babes Wanderabout, and then I got to race alongside the raddest babes I've ever met.
At the heart of all this, I learned just how just how much I love to ride, how much I live to ride. Whether it's my daily commute or a long training ride or a race or a casual social ride, I want to be there. I learned the deep satisfaction of ride can be, whether the miles are ticking serenely away beneath me or my legs are begging me to stop.
Most importantly, though, I learned that my powerful, amazing, and diverse the community of women, trans*, and femme riders here in Minneapolis has got my back, always. Most of what I learned this year I learned from WTFs and every member of our community has, in some way, been a source of encouragement or wisdom for me. WTF riders taught me how to wrench and how to race. They showed me how to compete hard and fast but also how to laugh at myself. They helped me to figure out how to keep my body in shape and my makeup on my face. They lifted me up but kept me humble. I feel deeply grateful for the vibrant community around me; I know that whether I'm at the track or on a full moon ride, someone's there to meet me where I'm at. My community is strong, so my heart is full. Because of you all, I learned, I am learning, how to be brave.
This year, I'm looking forward to a lot, too. I've started training, for the first time in my life, and I'm feeling eager to see the results of my hard work when I start the race season. I'm looking forward to seeing what I can do, to pushing my body harder than I've ever pushed before, to racing more often and with more discipline. But besides my own individual athletic pursuits, which I think contributes to and participates in one contingency of the 'rad babes on bikes' culture here in Minneapolis, I'm looking forward to doing more for the GR community. I'd like help lead and organize more rides, and I've committed to posting once a month (or more!) here on the blog. I've made a commitment this year to support and nurture WTF culture at large, and in this instance, that means blogging more, discussing more, racing more, wrenching more, training more, showing up more.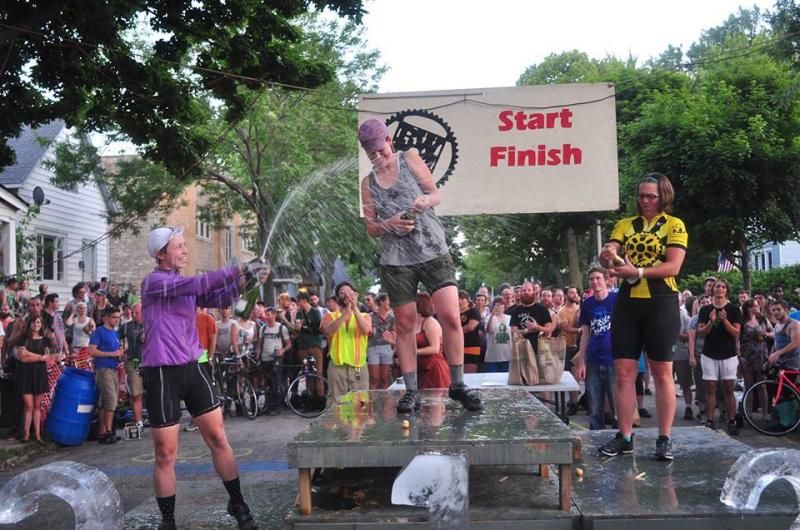 Writing this post and adding all these ridiculous pictures of myself has been a great start to my year and helped me get my head straight in the worst part of the winter. It's helped me to remember that I really have so much to be grateful for and so much to look forward to. Most of all, I'm looking forward to taking a spin with you.