At Grease Rag, we are a fan of zines.  Especially zines about bikes.  And bods.  Especially zines put out by our mega-talented friends!!
Here are some projects we thought you might want to know about, including two March 1st deadlines.
Zine Apothecary: "I am a zine library in a garage in Powderhorn Park, an amazing neighborhood in South Minneapolis."
The Winter 2011 edition of CLAP (Creative Ladies Are Powerful!) is oot and aboot.  Check a copy out to read a short guide to winter biking that Kat and I wrote, and to see the beautiful GR ad, created by our friend Erin.  The editors of CLAP are keen to get the Spring 2012 issue going, and are asking for your submissions!
With our spring issue due out March 22nd, the next deadline for C.L.A.P. contributions will be March 1st. In celebration of our year anniversary, we will be having the theme of "community" for this issue. If you find this to be inspirational for a piece, by all means go for it, though you can also create a piece unrelated to the theme as well.

Again, spring contributors will receive a FREE issue!
Contact CLAP at creativeladiesarepowerful@gmail.com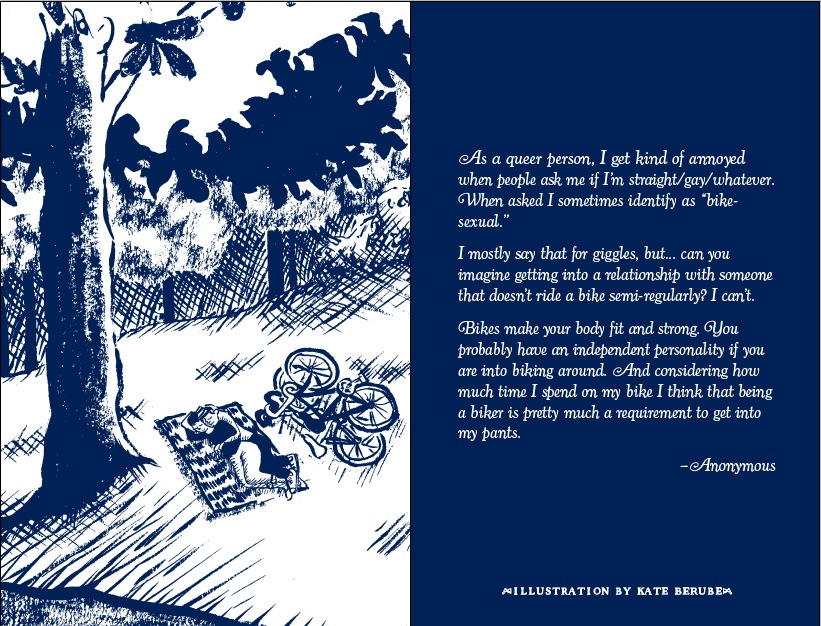 I've long been a fan of Elly Blue's Taking the Lane blog, and the series of high-quality zines by the same name.  If you haven't read TTL #5, Our Bodies, Our Bikes, ask me for a copy to borrow or buy a copy.  #6, Lines on the Map, has a kickstarter page, and there are great incentives- check it out.
I just submitted a piece for a spin-off project from Our Bodies, Our Bikes.  This newest project is called, Bike-sexuality: True tales of bicycling and desire.  Elly is looking for submissions of true bike-sexual stories and illustrations by March 1st.  Submit something sexy!